I was born in Jennings Memorial Hospital about halfway between my father's law office in a skyscraper in downtown Detroit, Michigan...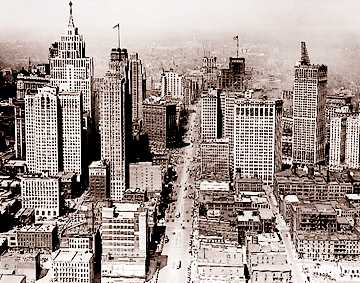 Detroit was a thriving and vibrant city.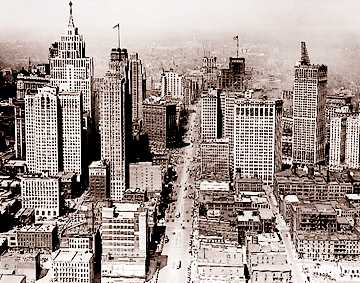 Detroit was a thriving and vibrant city.
.. and our suburban home in Grosse Pointe Farms, Michigan.
I attended private schools: grade school at Grosse Pointe University School (no longer called that.),
a boys' college preparatory high school, St. George's School (which now has girls too),
... and college at Lake Forest College in suburban Chicago. I graduated with a B. A. in American Civilization.
A wonderful Michigan lake of boyhood summers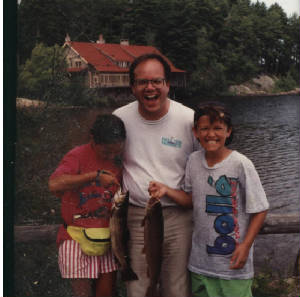 I am pictured between my niece and nephew in 1995.
During the summers I worked at Keewaydin Camp, the oldest canoe camp in North America, as a counselor.
After college I traveled and worked in Israel near where "Gideon, and all the people that were with him, rose up early, and pitched beside the well of Harod: so that the host of the Midianites were on the north side of them, by the hill of Moreh, in the valley." Judges 8:1
Returning to the U.S., I lived in the Chicago's Rogers Park neighborhood just south of Evanston, Ill. for a few years.
I worked for Carl Fischer, Inc., a sheet music distributor, which has now centralized its operations to its New York headquarters on Bleeker Street.
I married my first wife Mary and moved to LeSueur and Waconia, Minnesota, where she had found a job as a social worker and I worked in a major department store chain, Dayton's. (It is now Macy's.)
LeSueur is the original Land of the Jolly Green Giant. (Unfortunately a new taller Green Giant statue has outgrown the original in LeSueur.)
We lived right on the shores of Lake Waconia less than fifty miles from where radio host Garrison Keillor actually grew up.
After a couple of years we decided to pick up and move west, ending up on Bainbridge Island, Washington across Puget Sound from Seattle.
We managed the afternoon program of Bainbridge Day Care Center. The children I played with have grown also. They are now in their thirties (or passed away.)
I lived for about twenty years in Washington state, where I developed an interest in computers and worked in various computer stores. I regularly rode the ferry to and from Seattle from Bainbridge Island.
Mary and I separated amicably and I lived in Olympia for a time.
I had a seven year second marriage in Kirkland, WA, which ended poorly. (I have no weblink here, appropriately enough.)
Finally in 2003 I reconnected with Wendy, whom I originally met in college, moved to Centerville, then Oakwood, just south of Dayton, Ohio, her home town, and married.
MY FAMILY SYMBOL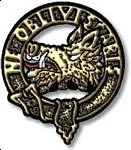 LET IT NOT BE FORGOTTEN
My parents
Some Great Experiences I Have Had
I have sung in choirs and musical groups since high school.
The Lake Forest College choir and madrigal group, North Shore Choral Society, Chicago's Old Town Renaissance Consort, Grant Park Chorus, The Episcopal church choirs of St. Barnabas Bainbridge Island, WA., St. George's and now St Paul's of Dayton, OH. I also sang in musicals and special shows with Bainbridge Preforming Arts.
I had a bunch of small acting roles in high school that lead to larger parts. In college I was in some plays.

When I moved to Bainbridge Island I played Dick Deadeye in "HMS Pinafore," Harry in Sondheim's "Company" among others and was a member of an improvisation group.
Hitchhiking with my friend Joel in 1972 around the U.S.
Hitchhiking through Europe, Israel, and Kenya in 1973. I spent that whole year traveling.
participating in the Landmark Forum and many of its subsequent programs. I HIGHLY RECOMMEND THIS TO ANYONE WHO KNOWS ALREADY ABOUT THINGS. IT WAS THE MOST PROFOUND WEEKEND IN MY LIFE, probably available near where you live, harmless and inexpensive (but not free.)
I am a history and train buff. I have three cats. I am an Episcopalian and a Democrat. I like to write stuff, letters to the editor, and I keep a journal.
I have worked electronics retailers such as CompUSA and Best Buy as well as the University Book Store in Seattle. Recently I have worked for several companies selling their products within retail stores. Those products have include Panasonic plasma TVs, cameras, netcams and camcorders, Olympus cameras. Tom Tom GPS devices, Linksys computer networking products, LaserShield home security systems among others.
Currently I work for a company calling people on the phone to have them volunteer for or contribute to charities and non-profit organizations.
I have just recently retired. I am taking a regular college course at Wright State University and doing some traveling.