Harry Campbell was a lawyer, a world traveler, wildlife enthusiast and scuba diver. He grew up and lived most of his life in Grosse Pointe, Michigan, although he went to grade school for a time near Geneva,Switzerland, and boarding school near Newport, Rhode Island at St. George's School with his brother George one year behind. Their mother died during his fifth form year there. He graduated from St. George's as did three of his sons, and earned his B.A. from Harvard University as did one of his sons. He married Ann Mitchell in 1946 and earned his law degree from University of Michigan Law School. This is the same institution where his grandfather had learned the same trade and his great grandfather had taught. He subsequently practiced corporate law at the firm Dyar, Meek in Detroit, then with Peter and George Monaghan at Monaghan Monaghan and Crawmer (est 1902) where he became a senior partner in the 1970s. He moved out of the firm's office in the Buhl Building to the Renaissance Center in the 1980s. Dad belonged to the Detroit Club and University Club in Detroit and served as president of the Grosse Pointe Club, the Yondotega Club and the Huron Mountain Club. Dad was an avid duck hunter and member of the Horned Grebe Pleasure Society, and the St. Clair Flats Shooting Club He was devouted to do-it-yourself repair and woodworking out of his basement workshop, so much so that at his memorial service at Old Christ Church in Detroit the eulogy made out his activities in the home workshop as a spirtual practice. Dad was not interested in religion or the church at all. He had an agreement with the Catholic Church and Mom to go to church with us on Easter and Christmas, which he did as long as we did. It was we that made jokes about the uncomfortable benches and sermons, not he, although he laughed heartily at them. In fact Dad is mostly remembered by all who knew him for his geniality and hearty laugh.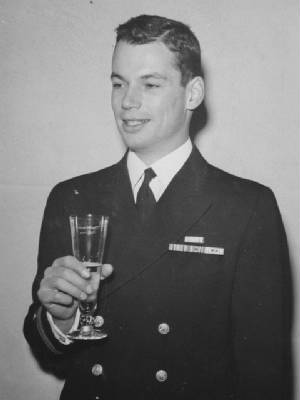 Dad was most proud of his service as a lieutenant aboard a US Navy destroyer in the Pacific during World War II. He is pictured above toasting his cousin Jean's wedding to Frank Farwell.
Ann and Harry Campbell were married in 1946.
"Henri" attended Ecole Nouvelle de la Suisse Romande at age 12. Click here to go to their website.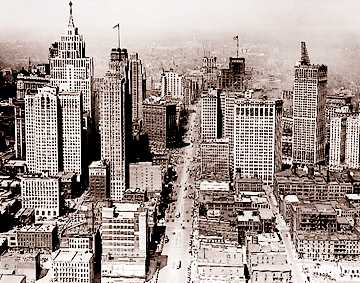 He worked in downtown Detroit.
About the clubs Dad belonged to: click here.
A TRIP TO DISNEY WORLD: One night at dinner in the recreated Hofbrau Haus at Epcot Center, the leader of the Bavarian oohm-pa band lured Dad up on stage to help direct, which he did. Then they cajoled him into trying to blow their enormous and genuine alpine horn, which he also did. Everyone was dumbstruck- not realizing he'd gone to school in Switzerland as a little boy. He smiled somewhat sheepishly and returned to our table with a big grin on his face, leaving the entire band -- and Ted and Dave (his grandchildren) -- with mouths agape.
It was hysterical! - recalled by Harry Campbell IV